Website Design
Stand out from the crowd with a stunning and optimised site that Search Engines will love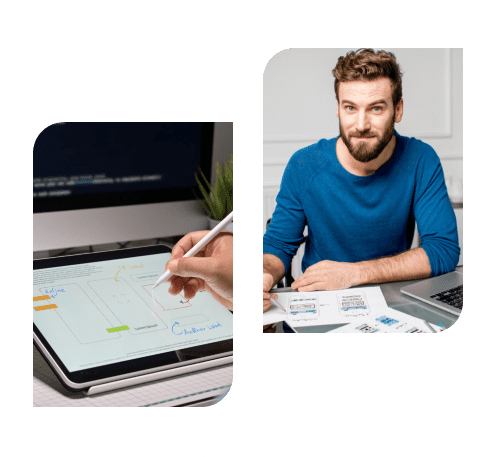 12 Best Practices for Website Design in 2019
The hallmarks of a good web design are constantly changing. Whether you're looking into how to design a website for the first time or trying to update an existing website for 2019, there are some basic principles that need to be followed. We've compiled a list of the most important website design best practices, intended to help you design your own website.
A Solid Mobile Platform and UX
The time has come: most of the world's browsing is now being done on mobile devices. Smartphones have made the need for a clean and attractive mobile site more important than ever: If your website doesn't deliver the same UX (user experience) on mobile as it does on desktop, you may be losing sales.

Responsive web design is intended to provide a consistent experience regardless of platform, but many are also moving towards AMP-driven sites for cleaner, faster loading.
Sales Funnel and Conversion Tracking
Stats are everything when it comes to eCommerce. Sales funnel and conversion tracking features track where customers go on your website, how many pages they look at, what order they look at those pages, and where they eventually convert (make a purchase) or abandon (leave). The first step towards improving your website is tracking these stats.

Services such as Google Analytics make tracking conversions and traffic easy, though you still need to integrate the code into your website platform.
A Consistent Brand Voice and Brand Identity
Before you begin to add content to your website and explore website design ideas, you should have a firm idea of your brand voice, brand identity, and brand messaging. Your brand is what most people are going to remember most when they come away from your website. A unique and creative brand will build trust and confidence, as it makes your web copy feel more authentic.
Direct, Clean Copy With a Clear Call to Action
Website copy is different from other types of content. Website copy is advertising copy: it has to be as brief as possible while still being able to convey all of the information it has to convey. Most importantly, at every step, the user must know what they should do next. A call to action tells a user, in very simple terms, whether they should sign up for a newsletter, call to make an appointment, fill out a contact form, or simply follow a company on social media.
Intuitive User Experiences With Few Clicks
What makes a user experience a positive one? An easy metric to use is how many clicks it takes a user to get to any portion of the website. If the user needs help or information, how many clicks would it take them to get to the website's FAQ? If the user needs to contact someone, how many clicks does it take them to get to the contact form? Users should need two to three clicks to get to any part of a website.

Likewise, websites need to be clean and not complex. A website that is too busy will not be intuitive: limit the active portions of the website to just a few elements at once. Simplicity and white space make it easier for a user to read and interact with a website.
Permanent Links and a Predictable Site Organisation
Permanent links are user-friendly links. Not only are permanent links more easily shared, they also improve SEO. Search engines today attempt to map out a website and use this mapping to create more relevant and accurate search engine results pages. If your website isn't mapped out correctly, the search engine won't be able to suggest your content as frequently.
Content-Friendly Search Engine Optimisation
In addition to making sure that your website is easily mapped, you also need to make sure it's optimised for search engines. That means that search engines need to know what type of content your website contains, that your website is high quality, and that your website is trustworthy. Having lengthy content without errors is a necessity, in addition to including relevant keywords and key phrases.

Adding content regularly to your website can also boost your search engine optimisation, but you need to figure out which content is most likely to be relevant to your users.
Data Collection for Email Marketing
Email marketing remains one of the best marketing types in terms of raw ROI. If your website isn't collecting information from email marketing, you may not be connecting with as many prospective customers as you could be. One common call-to-action is to add an email address to a newsletter. Newsletters are an excellent way to build engagement and relationships with your customers.
Social Media Integration and Commenting Systems
Brands are now interacting with customers more than ever. If you want your customers to interact with you outside of your website, you need social media integration. List your social media accounts directly on your website, add commenting systems to the bottom of articles, and keep your social media active and creative. By building followers on other platforms, you can expand your reach to beyond your site.
Load Times are Key
Most website users will not wait longer than a few seconds for a website to load. On mobile, they're a little more forgiving — but not by much. If you want users to view your website, you need to make sure it's fast; in order to do that, make sure your media is compressed and optimised. Compression and optimisation reduces file sizes without reducing file quality, ensuring that you still have a high quality website that transfers its data faster.
HTTPS and Other Security Compliance
HTTPS/SSL technology encrypts your website's data as it is sent and received. If you are collecting any personally identifiable information (such as usernames and passwords) or making sales on your website, it's absolutely critical that you use HTTPS. In addition to that, you should follow other elements of security compliance: make sure any personal information is encrypted and never store passwords in plain text.

New regulations are constantly being added regarding what information your website can and can't store and how that information has to be stored, so it's worth it to update yourself on security compliance from time to time.
Compliance for Disabled Individuals
A website can open itself up to potential lawsuits if it isn't WCAG compliant. Australia's 1992 Disability Discrimination act makes WCAG compliance important for many websites. This just means: having a predictable layout, captioning and ALT tagging all images, and not relying too much on video or audio media. For an eCommerce website design, not being WCAG compliant doesn't just open you up to potential fees: it can also reduce your revenue by reducing your audience.

A bad website design will keep your site from ranking on search engines, frustrate your users, and ultimately lead to reduced sales and influence. Contact us today to find out more about how we design a website that is creative, engaging, and technically proficient.
website design
Our Web Design Differences
The Best Web Design
Unlimited Revisions
We want you to love your website, I mean really love it. So we won't finalise it until you are happy. That means you get unlimited revisions in the design and build process.
WordPress Experts
Our designers have seriously exceptional skills, and they are at their absolute best when building on WordPress. This is on of the most stable, flexible, easier to use, SEO friendly and gorgeous platforms out there.
Best Practice
Our builders are fanatical students of what lies at the forefront of design trends. They also know what it takes to optimise your site for SEO as well as well as for mobile. Their love of that world will keep your site well ahead of the curve.
Ease Of Use
Our designers build sites you will be able to take over and update yourselves easily. It's yours, so it makes sense. But they are stable, flexible and so easy to use there will be no trepidation on your end once the reins are handed over.
Ongoing Support
This isn't a love you and leave you type proposition. We can host your site should you need it and we can provide ongoing support throughout the life of your business with us. We make sure your site is always up and firing on all cylinders.
Personal Service
Our customers mean everything to us. We are a small team who take the time to get to know the people we are working with and develop trusted relationships with them. You will have access to us whenever you need it.
website design
Our Website Design Services
You get precious few seconds to make that blinding, memorable first impression when someone lands on your site. In that tiny window you have to grab someone's attention. The look of your website, the touch points their eyes are drawn to can literally make or break your business.

This is often your first point of contact, your handshake with a new customer and you need to look them in the eye (digitally), instill instant confidence and give them what they came for.

This is why website design is so vital. It all comes down to the aesthetics, the content and the traffic. And at Agile Marketing we understand firstly how to get people to your website and secondly, once they are there, how to make them stay.
Your Vision, Our Build
This business is your baby, we understand that. So we will work with you on your brand, getting to know your industry and your audience and come up with a site that will speak to them. You will have a say throughout the entire process. You will get as many revisions as you need until the site is perfect.
We Make Sure You Are Visible
A website can have all the bells and whistles it pleases but it won't mean a thing if no one is visiting it. So Search Engine Optimisation (SEO) is paramount when designing a website. The core strength of Agile Marketing is SEO-based research so we bring that know how to our web design capabilities as well. Your site will be completely optimised for search in your industry. It's true you can pay for traffic through Google AdWords or Facebook campaigns but it is the organic traffic, the stuff that comes through search, that is the end game. It is where the magic happens, it is where high conversion rates live.

Added to that load speed is paramount when we design a site for you, it is a real strength of ours. And everyone knows slow sites rank poorly and even if they do land traffic bounce rates are high.
Stand Out From The Crowd
Our web designers are experts, they know what works on a website and how to make that functionality striking. A beautiful, functional website can transform your business. If you are a new small business then investing in a website that attracts, retains and converts can take real pressure of your bottom line for those tough fist couple of years. Yes, people can build their own websites with drag and drop platforms fairly easily these days but those sites will not have the same depth, the same SEO optimization, the same functionality and load speeds as one designed by a professional. We take pride in our work and revel in your success.
Create, Attract, Convert
Your site has been found on the back of SEO, the eyes are lingering because the layout is beautiful. Now it is time to convert those eyeballs into customers. We understand business so we know you have just a few seconds to make the impression. We will make sure your elevator pitch is front and centre, is spot on brand and nails the customer with EXACTLY what they came to the site for. Once you have them hooked you need to make it easy for a prospect to proceed. Our Calls To Action (CTA) placed throughout your site will send conversions through the roof.
Responsive Website Design
Smartphones have well and truly taken over from desktop as the primary tool for search and site visits. So it is paramount that your website be mobile friendly. It goes without saying anymore, there is no use creating a website that is not completely responsive and optimised for mobile. Every website we create looks and works just as well on mobile as it does on your desktop.
WordPress Professionals
WordPress is widely regarded, and rightly so, as the pre-eminent web building platform and our designers are experts on it. WordPress is an SEO superstar, its load speeds are lightning, its functionality is almost limitless and integrations are all top notch. But most importantly once we have built you a beautiful website it is not hard to take control of it yourself going forward. We will always be on hand to provide support but you will want access yourself and WordPress is a platform people with limited to zero design experience can work with. That being said our designers are experts at any number of web building platforms so should WordPress not suit your needs we can still create a site for you.
WooCommerce and Shopify
Many small businesses don't think about selling their products properly online when they begin their website building journey. That can be an expensive oversight having to get a developer to rebuild a site and add in the capability. But with WooCommerce and Shopify, the two largest ecommerce platforms, there is seamless integration with WordPress. We have helped transform businesses by setting up their online selling capabilities while our clients get on with the process of actually selling and growing the business itself.

So above is the outline of what you need to build a beautiful and money-earning website. If you want us to help you build it, based completely on your vision, then please get in contact.
10 Ways To Boost Your SEO Right Now
FAQs
How much does a new website design cost?
There are a lot of things that are factored into how much it costs to have a website designed. The skill and experience of your website designers and developers, the skill and experience of the agency handling your web design if you've hired one, whether or not you're using a template or custom design, and if you're using custom photography or stock photography. There are multiple stages to the website design process — at each stage, you should be aware of the cost of each of your options before you proceed. Ask your agency what you can expect cost wise during different phases of the project.
How does the design process work?
The website design process actually includes much more than design — it's the whole process of envisioning a website and then bringing it to life. In fact, the design is only the first step. First, the client communicates what they're looking for in a website and a few design mockups are created. They are sent to the client, who then requests any edits that they would like to have made. Changes are made based on client feedback and once the client is happy with the finished design, it is then taken by a developer to make into a live website. This process is involved and can take a few weeks. Once the live website is mostly done, the client is able to click around and review how the website looks and functions. They can provide feedback at this stage as well. After any changes are made and the client approves, the new website is launched.
What is the difference between design and development?
Design and development are often used interchangeably by people who aren't familiar with the website design process. The design part of the process is where a flat image is created, usually a PDF file, of what the website would look like. The development part of the website occurs when a developer takes the images created for the design and incorporates them into a live website, creating functional pages that look exactly like the flat PDF design. You can hire a designer and a developer separately, or you can work with someone who has both design and development experience.
I've seen ads for cheaper web design services. Why shouldn't I hire them?
Some web designers offer very inexpensive websites. You might see ads for websites that cost just a few hundred dollars, while legitimate agencies quote you thousands. This price difference can be staggering, but it's important to remember that you get what you pay for. If you're only paying $500 for a website, you're going to get a $500 website. It will likely be made from a template and you won't have the ability to customise different parts of the site, like images, fonts, navigation, and in some cases even colours. Always ask a web design agency what you're going to be getting for the price and scope out multiple examples of their web designs to make sure they don't all look like they came from a cookie cutter.
How can I best support the development of a new website?
If you don't have an internet marketing team to do it for you, you'll need to be involved in the web design process at different stages. You can support your web designers and developers or their agency by being responsive to questions and providing detailed feedback on what you would like changed and why. Give your input as often as you can so that ultimately, you end up with a website design that you are not only proud of but ecstatic about!
Agile knowledge base
Related Content
Search engine optimisation has come a long way since the mid-2000s when choosing a high … Read more

Your content marketing strategy is the bread and butter of your advertising in today's information-driven … Read more

It's a story as old as the first commercial domain name to be registered on … Read more
Contact us
For A Free, No Obligation Consultation