Copywriting
SEO Copywriting that will boost your business and bring it into the light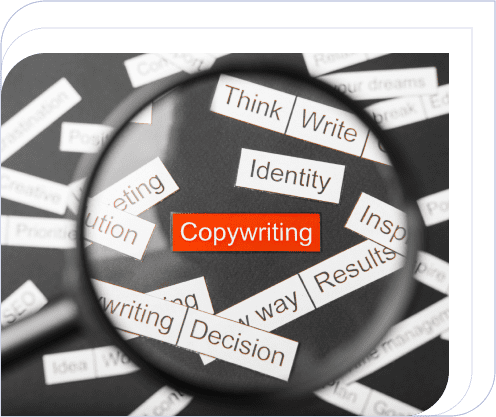 The 6 Secrets of Amazing Copywriting
Not everyone is born a writer and actually creating good and engaging copy is very difficult. However, it is essential for the success of your business. If you want to create great copy, you have to follow some key steps and utilise secrets of the trade.
The 6 Secrets to Amazing Copywriting
Now that you know how great copywriting can be for your business, here are six more secrets to creating amazing copy The tips below will place you on the path to success.
Be A Storeyteller
People love a good story and it has been that way forever. When you are writing copy, if you can find a way to tell a story, be sure to include it. It will not only keep people interested in what you are saying but it will also keep them on your website longer so you actually have a chance to win them over and sell them something. Of course, the story needs to be relevant but if you can find a way to work one in, your copy will be that much better for it. People will also be more likely to share your story and your business with others if it is memorable.
Mistakes Kill Copy
Errors are simply unforgivable. They kill copy and turn people off your business immediately. This can be something like a spelling or grammar error. People tend to think that if there are errors, you probably aren't great at the work you do within your business. That is not the look that you want to give off and you certainly do not want the reputation that goes along with it. The easiest way to avoid this is through proofreading. If you are not great at proofreading, you can have someone else look over the copy or you can get an online tool to do it for you.
Brighten Up What You Write
There are a few things that really help copy stand out from the rest. One of them is the brilliant use of words. You do not want to use words that are too big for your audience to understand or that they do not understand, though. What you want to do, in reality, is choose colourful words that make your copy much stronger. The easiest way to do this is to use your thesaurus and find better words for your copy. You do not want to use too many words because that would be obvious but adding in a few different word options will not only add some colour but will also make your copy less bland and reduce multiple uses of the same word.
Provide Colourful Examples
Another way to liven up copy is to provide some examples. Instead of just explaining everything in copy, you can explain how it can be used so that people can better understand it. Any time you can include an example that will help to illustrate the point you are trying to make, be sure to work it into your copy. You can keep your example simple or you can make it detailed depending on the copy and what it calls for. Either way, with an example, your audience will better understand and will not get lost in your words easily.
Ask Questions
One of the best ways to get people to continue reading is to place them in the shoes you want them to be in. You can do this by asking them questions you know they will answer or need to answer. This has been done a few times in this copy and it is a good tactic to keep people engaged because they can start to actually see themselves needing what you want them to purchase or needing your services. It is often an underused tactic so asking a few questions goes a long way.
Keep the Content Engaging
This one almost goes without saying but it is an important point to make. Once you have finished writing your copy, you should take a moment to read through it and make sure that it is enticing and engaging. If it is something that you would want to keep reading, that is one thing. But will your readers want to continue reading it? That is the question you should ask yourself. You should read it through the eyes of your target audience. Using the tips above will result in engaging content but it is worth getting another pair of eyes to run over the copy just to make sure they are pulled into it as well.
If you take the time to really hone your skills as a copywriter, no matter what you are writing for or what your goal is, you will be successful. Using these secrets will take you a long way.
CopyWriting
Our Content Marketing Difference
The Best Content Marketing
Experience
Our seasoned writers have been creating engaging, informative and dazzling content for more than 15 years. They are experts at audience targeting. They do not write in just one voice, for just one group of people. Content is created to speak directly to your particular prospects.
Format neutral
We excel at all forms of copy writing, be it website copy, blog pieces, more in depth whitepapers or even email marketing and social media posting. Each requires different skills and all are at your disposal.
Personal Service
You will have as much face to face contact as you want with your copywriter. This kind of service is a big part of who we are. We want our customers to know we are there for them when they need it most. We fly our flag on it.
SEO Nerds
We pride ourselves on our SEO expertise. We know what to research, how to research, we know what your customers are searching for and we know how to create content around it. We keep an eye on the Google algorithm and adjust everything we do accordingly.
CopyWriting
Agile's Copywriting Services
What is copywriting?
Website copywriting is creating content, usually text, that appears on a website to describe an idea or inform an audience. The content is optimised to appeal not only to human visitors, but also to search engine algorithms. The copywriting that appears on websites is a major factor in how high a site appears in search engine rankings.

A good copywriter knows how to modify the writing style to fit the purpose of the content. Banner advertisements have a much different feel from homepage text. Homepage text has a much different feel from a product description. A product description has a much different feel from a DIY birdhouse description. You get the point!
Web copywriting and Google
Web copywriting has the added dimension of working within a digital space in which all content is indexed through the AI driven algorithms of the major search engines. Why is this so important?

Unless your brand comes into the Internet with an international audience already in place, the majority of your new customers will not find you through your primary web presence. They will find you through social media and overwhelmingly through content searches on Google and the other major search engines.

In Australia, it is estimated that anywhere from 65-90% of all web traffic comes through the three major search engines (Google, DuckDuckGo and Bing). These websites are the gatekeepers to your company's online visibility. As such, they control your other key business performance metrics as well – customer acquisition rate, conversion rate, total revenues, etc. The players change in other countries (Japan, Yahoo; Russia, Yandex; China, Baidu), but the game is the same. The search engines are your ticket to success in online business.

The secret to unlocking the potential of the search engines, and with them, the power of the Internet, is the copywriter.
What does a copywriter do?
A web copywriter is responsible for first understanding the relationship between a website and its audience. Before writing one word, a copywriter must strategize how to best communicate the purpose of the website to a human audience and to the major search engines. Questions like —
Should I use simple language or industry-specific, high level jargon?;
How long should the content be on this page?;
What should the tone of the content be (humorous vs. academic, objective vs. persuasive, etc.)?;
What keywords should I use to anchor this content?; and
How can I make this content unique among similar web pages?
are just a few of the things copywriters will ask themselves and their clients before beginning to work on the actual content. As a webmaster or company decision maker, you may already have an idea of the content you want on your website. If so, you can drill down into the copywriting profession and choose a specialist. The two major types of specialists in copywriting are creative and SEO.
The Creative Copywriter:
is a digital writer who is focused mostly on the human aspect of copywriting. These writers are usually best utilised for entertaining content and content that is meant for advertisements.
The SEO Copywriter:
is a digital writer who is focused mostly on the search engine aspect of copywriting. These writers are best used for the content on your deep web pages (the pages that are not your homepage) and guest blogs with links that lead back to your landing page.

Ideally, you will find creative copywriting and SEO copywriting in the same person. Agile copywriting services give you the best of both worlds so that you will never have to choose.

How do we do this?
What will be the advantage to my business if I invest in copywriting?
We serve you as a copywriting agency putting you in touch with the writer or writers who are perfect for your current needs.

A copywriting agency is a business with access to more than one digital copywriter. The copywriters may have a specialty because of their natural talents. It is the job of the agency to match the natural talents of the writer to the needs of the client company. If a project requires more than one writer or one type of writer, then an agency is the best way to go.
What services can you expect from Agile Marketing Australia?
Creating engaging content – This is the core of any copywriting service. Whether content is meant for SEO or for human visitors, the content must be engaging. Agile Marketing Australia is the agency that can get you creative, optimised content regardless of the connotation that content needs to take.
Keyword analysis – The number one way to rank SEO-centred content on Google is using the best keywords. Before any Agile copywriter begins to write, you get an in depth keyword analysis to help that content index properly within the search engines. Accurate indexing means higher ranking, which leads to more visibility.
Competitor analysis– Your competitors are not standing still while you are creating content for your website. They are constantly moving and building content just like you. Agile will give you the best chance at success in this environment through a comprehensive monitoring of your competitors. We will determine how to best position your content and how best to write it for your audience.
Web design – Copywriting is an essential part of web design. At Agile, we will format your content to fit your web design and optimize it for the search engines most relevant to your website.
Build optimisation – The technical aspects of web design and optimisation include site mapping , URLS, H1s, meta tags and descriptions for each piece of content created. Agile takes care of this so you don't have to.
10 Ways To Boost Your SEO Right Now
Agile knowledge base
Related Content
Search engine optimisation has come a long way since the mid-2000s when choosing a high … Read more

Your content marketing strategy is the bread and butter of your advertising in today's information-driven … Read more

It's a story as old as the first commercial domain name to be registered on … Read more
Contact us
For A Free, No Obligation Consultation