Content Marketing
Drive profitable customer action through the creation of brilliant, targeted content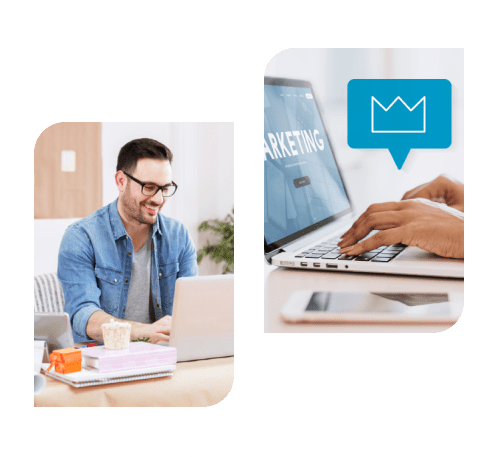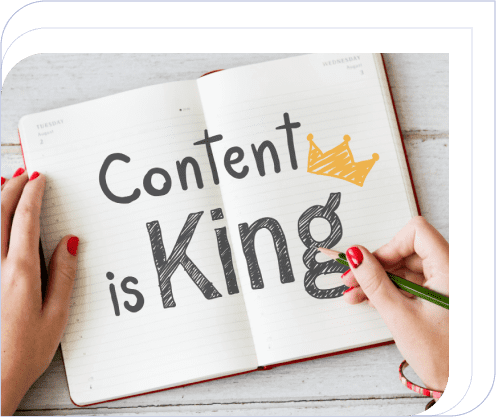 The 11 Fundamentals of Great Content Marketing
In January of 1996, Bill Gates declared that "content is king" — and it's a saying that still holds true today. Great content is more important now than ever, and it's a direct factor in Google's ranking algorithms. The benefits of content marketing are clear and if you don't have a good content marketing strategy, it's time to get one. Here's your guide on how content marketing works, content marketing best practices, and how to solve common issues that you'll come across.
Quality, Quality, Quality
In the past, content of any kind was a good thing to have on your website. It didn't matter much how well it was written (from an SEO perspective, anyway) or even how long it was (as long as it was over 300 words). Websites published spammy blocks of keywords and were rewarded for it, and users looking for information came across plenty of useless pages in the top search results. Over the last decade or so, content marketing has changed drastically and Google's ranking algorithms look for much more. Content must be top quality with cohesive and authoritative thought processes, and well organised and optimised. If you can't publish copy of the highest caliber, it's often better not to publish at all until you can.
Touch Your Audience's Pain Points
Google's algorithms have gotten smart enough to understand how well content answers a question or covers a topic comprehensively. The goal is for Google to understand web pages the way humans do, so optimising your pages becomes a single process for both. Understanding your audience's pain points and recognising why they would come to your page to begin with is the critical first step to a good content marketing strategy — the second is ensuring that your copy touches on those pain points and offers actionable advice and solutions. Your audience should know within the first few seconds of arriving on your page that the content in front of them will answer their questions or provide solutions to their problems.
Recognise Where Your Audience Is In the Buyer's Journey
Your content should be developed in such a way that it caters to where your audience members are in their buying journey. Are they simply looking for more information about a product or service, or have they made a decision that they need something and they're making comparisons before they make a purchase? It's also important to understand that you may have people at all different stages of the buyer's journey visit your website. Your content should be structured in a way that makes it easy for people at the beginning of their journey find information that nurtures them and for people closer to making a buying decision to jump ahead.
Analyse Your Competitors' Content
Understanding what type of content your competitors are producing and how well it's performing is an important part of the research phase. You don't necessarily want to use the information to produce exactly what your competitors are producing, but you definitely want to make sure you're covering the topics that they are and more. Analysing competitor copy can help you visualise what they're doing well, what they're not doing well, and what they're missing so you can fill in the gaps and create an informational resource that surpasses that of your competitors.
Create Topic Clusters
If you've looked into content marketing examples recently, you've likely come across the term "topic cluster." A topic cluster, as defined by Hubspot, is "where a single "pillar" page acts as the main hub of content for an overarching topic and multiple content pages that are related to that same topic link back to the pillar page and to each other. This linking action signals to search engines that the pillar page is an authority on the topic, and over time, the page may rank higher and higher for the topic it covers. The topic cluster model, at its very essence, is a way of organising a site's content pages using a cleaner and more deliberate site architecture." Topic clusters aren't optional anymore — if you want your content to rank, they're a must.
Use a Wide Variety of Related Keywords
With Google becoming smarter, your optimisation game must get smarter too if you want your website pages to rank. Using semantically related keywords is one piece of the puzzle. Semantically related keywords are essentially words and phrases that are used on more of the pages that rank in the top 10 for your chosen keyword. For example, if your keyword is "SEO," many of the top ranking pages will also use "marketing", "traffic", "beginners" and more. By including semantically related keywords that are used on top ranking pages, Google is likely to increase your ranking because it sees the similarities between the content on your site and the content on websites it has already deemed valuable.
Establish Thought Leadership
If you've looked into content marketing examples recently, you've likely come across the term "topic cluster." A topic cluster, as defined by Hubspot, is "where a single "pillar" page acts as the main hub of content for an overarching topic and multiple content pages that are related to that same topic link back to the pillar page and to each other. This linking action signals to search engines that the pillar page is an authority on the topic, and over time, the page may rank higher and higher for the topic it covers. The topic cluster model, at its very essence, is a way of organising a site's content pages using a cleaner and more deliberate site architecture." Topic clusters aren't optional anymore — if you want your content to rank, they're a must.
Set Up Metrics for Measurement
Your content marketing efforts can all go to waste if you haven't set up ways to measure its efficacy. Your strategy should be constantly evolving and always incorporating the latest best practice. Content marketing is not something you do once and consider it done — you should be evaluating your content for engagement and consumer response and tweaking your strategy to reflect what the metrics are showing you. Ideas that don't work well or efforts that perform poorly should not be continued, and techniques that have performed well and garnered more leads should be replicated. Establish ways to measure the performance of your content so you can continually hone your process.
Maximise the Most Effective Distribution Channels
As you market your content, you'll find distribution channels that do well and others that don't do so well. As you discover distribution channels that drive traffic and leads, it's important that you maximise them. What other content could you be pushing through those channels? For example, if you're only promoting blogs on Facebook but Facebook is bringing in a lot of leads, it would likely be a smart move to develop a video or podcast and promote it through that same channel.
Repurpose Existing Content
Good content is costly, whether you are paying someone else to write for you or taking the time to write yourself. If you have a piece of high performing content, you can repurpose it in a few different ways to make it more engaging and get the most bang for your buck, so to speak. Say you have a great pillar page that is gaining traction. You could take the entire topic cluster and create an e-book from the content for users to download free, or you could create an infographic summing up the information on your pillar page. Repurposing content allows you to stretch your content marketing dollars further while emphasising a topic that does well.
Include Social Media in Your Content Marketing Strategy
Social media has many platforms that can be used to drive traffic and leads to your website. By creating highly shareable content and promoting it via social media — usually through paid ads — you can appeal to your target demographic and get traffic that is more likely to convert.

Content marketing is challenging without a doubt, but when you have a great strategy in place, content marketing problems become a thing of the past. Contact us today to learn more about developing strategies that work and how a content marketing firm can help you create great copy that performs.
SEO
Agile's SEO Fundamentals
Our SEO Difference
Experience
We have been building up companies' online presence for years through our content creation. We know what to create, what channels to distribute and what your audience wants to see.
Strategy
We don't just throw out a raft of content and see what sticks. We take a deep dive into the data around your business and audience and with a laser focus create content based on the results.
ROI Committed
Content marketing is without a doubt one of the best investments many businesses can make. But it is not for every business. We will sit down and talk through your options and only take you in if we see a solid ROI.
Uniquely Yours
There is no secret automated recipe for successful content marketing at Agile. Each business is completely different and we understand that. No two strategies will be even remotely similar, each uniquely tailored to your needs.
Copywriting Experts
We have some real experience in our copywriting ranks and it shows in everything we create. Punchy, engaging, informative and just plain beautifully written, your copy will stand out.
Personal Service
Agile is not some huge agency where you will be treated as just another client, fobbed off, no calls returned, the odd email answered if you are lucky. We pride ourselves on our trusted and intimate relationships with our clients.
CREATE, ATTRACT, CONVERT
Our Content Marketing Services
Content Marketing Strategy
At Agile Marketing Australia we sit with you and go deep on who your target audience is and what you want to achieve once engaged with them. That helps us create our content marketing strategy for you, the 'why' we are creating the content, the 'who' it is aimed at and the 'what' you can do for them.
What is content strategy?
The content strategy is therefore the 'how' of these grand plans.

It is no secret that attracting customers and earning conversions has changed in recent years. The importance of Search Engine Optimisation and Google search now necessitates the constant creation of engaging and authoritive content. Your business will fall out of the consumer's view very quickly if you aren't being surfaced in Google.

So we undertake a deep dive into your business and what your audience is searching for and we create content around that. We take into account your business, your target audience, how and where they consume content and we tailor our strategy around it.

It is fluid and we adjust the strategy as the industry changes, as consumers change, as the Google algorithm changes, as search terms change. We are not static in the slightest, we are agile and always at the forefront of what technologies and content will put you in front of the audience you want.

At Agile Marketing Australia we pride ourselves on developing a content strategy that ii uniquely yours, it is geared for you, your product and your customers alone.

In doing that we look at:
Who you are creating the content for: Who is your target audience, do you have more than one and how can we cater for each
The problem you solve for a customer: We will educate your audience as to why they need your product, what it is in fact going to solve for them and why they cannot be without it
Your Unique Selling Proposition (USP): What makes you different from your competitors. This is a primary focus on the content we will create for your business
In-depth keyword analysis: We are experts at delving into keywords relevant to your industry and products. We discover what are the big search terms people are looking for, who is ranking well for them and where there might be opportunities to create content around other keywords. Our content strategy is very heavily based around a real expertise in SEO and creating content we know will rank well in Google and other search engines.
Different content formats: We can cater different content for different formats, be that blog posts, videos or infographics, whichever is best for reaching your audience
Where the content will be published: We will utilise channels that you own, such as your website and blogs as well as social media channels such as Facebook and Instagram
Timing of creation and publication: We create a publication calendar that will suit your business needs around events, holidays and any opportunity that comes up throughout the year. Again, at Agile Marketing Australia this is fluid and can be added to quickly as needs arise
Position your business as an industry authority: Much of the content we create will have nothing directly to do with the actual product and services you sell. We create content that will inform, engage and attract new customers as well as old to your business. We will create educational, well researched think pieces on big issues within your industry which will see you become industry experts and earn loyalty and trust from customers. This is a key pillar of content marketing.
What Does Success Look Like For Content Marketing?
Content Marketing is not for everyone, it takes a lot of research and a lot of hard work. But if you want to go down this path, we promise you it is well worth it.

The benefits of content marketing will not only increase your bottom line but raise perceptions of your business among customers and other industry experts.

So, the main reason to undertake content marketing strategy is to:
Quite simply, be found by prospective customers: We cannot stress enough Google rankings make and break companies. As customers search for products, services and answers your content marketing can position you at the top of Google search rankings, and at present there is no more powerful way to source the right customer
Build an engaged audience: The right piece of content that strikes just the right chord with the right type of people is what we are after. You engage your audience, you build on it and eventually those people will interact with your business in an ongoing fashion. This will increase sales, provide valuable customer insights and build brand ambassadors.
Build a new customer: Look, we are all after increased revenue and with the right content marketing strategy you are going to develop an audience that trust you as your authority in the industry grows. The more your audience trust you, the more likely they are to buy from you.
Reduce other marketing costs: A lot of clients see better results coming from content marketing than they do other more traditional forms of marketing. There is the option to simplify some of your marketing strategy by investing in content.
10 Ways To Boost Your SEO Right Now
FAQs
What is content marketing?
Content marketing is essentially a marketing strategy that primarily involves publishing different types of content online in strategic ways. Typically, the content isn't overly sales-oriented — instead, it aims to educate the user and gently lead them to make a buying decision. When done well, content marketing attracts and maintains a specific audience, which ideally is the audience that is most likely to buy a product or a service from a business. Marketed content should be valuable, relevant, engaging, and actionable. Users consume content because they are looking for a solution to a problem and are ready to make progress.
What types of content should I create?
There are many different types of content that can be used with content marketing. The most common types of content include but are not limited to blogs, FAQ and resource pages, pillar pages, white papers, infographics, eBooks, podcasts, and videos. Although video is quickly gaining traction, it's important for businesses to have a mix of different types of content to appeal to different types of people within their target audience. Content can be repurposed from one form to another without penalty — for example, blog and resource page content can be republished in an eBook for free download.
How frequently should I publish content on my website?
How often you publish content on your website is largely determined by your schedule and what type of business you have and how often it makes sense to post. It's more important to publish consistent content and quality content than it is to publish lots of content. If you can only post once a week or once every two weeks with your schedule, stick to that and focus putting out the highest quality content possible at those times. Consider the type of business you have also. Do you own a law firm? You might only need one post per week. Do you publish celebrity gossip? You're likely going to need to post several times a day. Look at how often your competitors are posting and aim a little higher.
What's the difference between content marketing and social media marketing?
Content marketing and social media marketing are intertwined, but they are not interchangeable terms. Usually, content marketing facilitates social media marketing. For example, publishing blogs, eBooks, and infographics give you shareable content to promote on social media. Social media marketing without content can be difficult. You can reshare other people's relevant content, but without original content to promote, your social media marketing will likely not be as successful as it could be.
Why should I educate my customer base?
Many businesses who are new to content marketing don't understand why they should sink money, time, and effort into providing free information to customers who may very well end up shopping with a competitor. However, educating your customer base is a critical part of creating brand loyalty in today's business climate. Consumers are more likely to shop with businesses that provide them with quality information about topics they care about than they are competitors. Also, content marketing allows you to subtly weave in persuasive content to help influence a buying decision without using outright promotional tactics.
When will I see results for my content marketing?
Seeing results for your content marketing efforts is going to take time. Often more than a few months and even up to a year. First, Google must crawl your site's content and evaluate it before ranking it accordingly. With billions of websites on the Internet, getting new pages indexed doesn't happen overnight. Check your rankings, but don't be surprised if you don't see the needle move at all for the first few weeks that your content is live.
How much does content marketing cost?
There are many factors that affect the cost of content marketing. If you choose to create your own content, your costs will be drastically lower but you will have a much higher time commitment. Also, if you don't have enough time to work on the content, it takes longer to get it up and live on your website. If you pay someone to create content for you, what you pay depends largely on the skill, experience, and education of the person writing the content. Good content marketing isn't cheap, but it can be affordable and worth the investment.
Agile knowledge base
Related Content
Search engine optimisation has come a long way since the mid-2000s when choosing a high … Read more

Your content marketing strategy is the bread and butter of your advertising in today's information-driven … Read more

It's a story as old as the first commercial domain name to be registered on … Read more
Contact us
For A Free, No Obligation Consultation